~ Westfield Mania DVD ~
Only available here on Westfield-world.com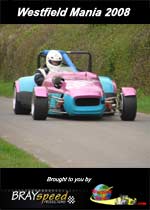 A look at westfields in Action around the hillclimb & Sprint Scene in the UK.
Coming to you near Christmas time.
Ideal present for your partner so watch this space.
Payment will be available via Paypal so nice and easy.
Below is just a sample of what's to come.
(note: Cover may be subject to change)
Price will be around £19.99 which will include P&P to anywhere in the UK
---

A Taster Video of Mike Rudge in his Westfield in April at Gurston Down hillclimb.
He's running a narrow body Westfield with a naturally aspirated Cosworth engine.
First part is Mike running in the wet on SLICKS, he is totally nuts!
Second part of this taster video is mike doing his stuff in the dry - A Great driver
(Click icon above and either "right click and save as" or watch if from your browser)
To Pre-order your DVD, Please send me an Email titled Gurston DVD