~ 3D Cad Models ~
This is a 3d Model of my Westfield SE (Narrow body). Instructions on how to view it are below
Why: I have always been interested in Cad drawings but never had the time or knowledge to do one.
This is my first attempt at it which has taken a long time so please forgive any anomalies. I intend to add more drawings as time goes on, like separate parts etc.
What it is: It is a relatively simple model of what a Westfield SE (Narrow body) looks like from a 360 degree view. Two versions available as you can see from the thumbnails below.
It is a completely 3D rotational model with it's own Viewer.
What it is not: This is not a scale model of a Westfield as drawings of the bodywork are not available. The original SE bodywork was moulded from a hand made plug (Clay model) and was all done by eye. Thus most of this was modelled by eye too.
It does not show every nut and bolt, although this is possible, the file would be far too large to download so I have omitted some detail for this reason. Maybe on the parts I will add some more detail at a later date.
How to view: Simply click on the model you wish to view, download it and click on the file. The model comes with it's own viewer so no plug-ins to install. You can also make some of the parts Transparent just for fun.
Standard body version is around 3.6 mb (in .zip format)
Aeroscreen version is around 3.3 mb (in .zip format)
Tips: It is best viewed in "Perspective View" as this gives a more realistic model.
Try making some of the parts transparent by clicking on the "UI" option and right clicking the parts.
I can if you wish, colour any or every body panel differently so if you would like a custom one of your car done, please email me.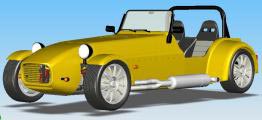 Standard Body (Narrow):
This is a model of the narrow bodied SE with Windscreen, Cobra Seats, O.Z Alloys, ETB Yellow instruments and an SBD Exhaust. Click on the picture left and download the .zip file.
You will need Winzip or Winrar to open the file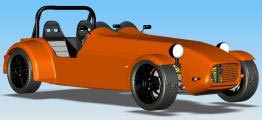 Aero Body (Narrow):
I was interest to see what the Aero-screened car would look like before I bought one so I created this model.
This one features Black alloys and exhaust, white dials and a Westfield Aero Screen with smoked glass.
It's nice to see how this looks from all angles, side is best in my opinion.